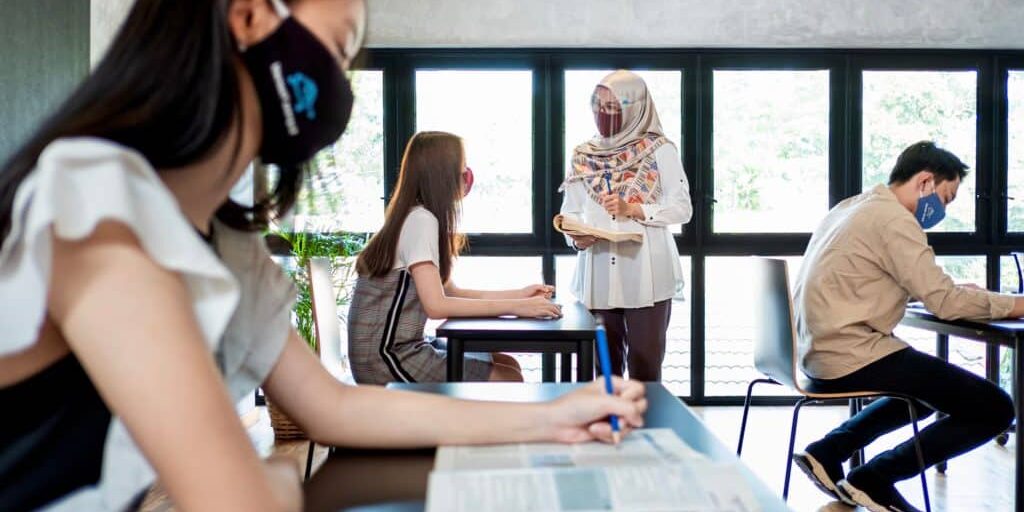 10 best English courses in Indonesia
Nowadays, there are so many English courses to choose from!
While having options is always good, having too many options can cause a headache!
However, be careful when making your decision when it comes to English courses!
The wrong course can lead to disastrous outcomes!
Not only do they waste your time and money, they teach you bad habits that are very difficult to unlearn.
These courses don't help you move forward, they actually make you go backwards. They make you more confused than before you started.
Even worse, they leave you feeling unmotivated and overwhelmed and totally unprepared for the future.
So, to help you make an informed decision to choose the right English course for you, we've compiled the 10 best English courses in Indonesia. We hope you find this article helpful! :)
Without further ado, let's start from number 1…
1. IELC English Campus
IELC is among the best English courses in Indonesia. With its headquarters in Surakarta, IELC has received over 500 5-star reviews on Google.
You can choose from a wide range of courses that are sure to meet your needs:
Kids on-campus
Kids online
Teens on-campus
Teens online
Adults on-campus
Adults online
IELTS on-campus
IELTS online
TOEFL on-campus
TOEFL online
You can also learn English for specific purposes, such as English for business, English for medicine, and even English for law.
All IELC courses are offered in both group and private settings. Exam preparation classes such as IELTS and TOEFL prep, on the other hand, are only offered as private courses. With this personalized attention, IELC strives to get you to your target score as quickly as possible.
There's no need to be concerned about the teacher's ability! IELC has a rigorous hiring process in place to ensure that only the best teachers are accepted. In fact, just one out of every 300 candidates is accepted!
When you enrol at IELC, you can expect lively and interactive classes, quality materials, top notch student support, and routine updates on your progress.
Presently, IELC has hundreds of students from all around Indonesia and even overseas!
You can learn more about IELC here and contact IELC directly to schedule a free consultation here.
2. EF
When it comes to English courses, EF needs no introduction!
First established in Sweden in 1965, it has since spread its wings to many countries around the world and has millions of students and alumni.
A major selling point for EF is the opportunity it provides students to interact with native English speakers to practice their speaking skills. Indeed, EF is well known for having native speaker teachers in its centers.
Not only that, EF is also well known for its homestay program. Children as young as 10 years old can spend 2-24 weeks abroad and stay with a host family. With no choice but to communicate in English throughout the duration of their stay, students' English will undoubtedly vastly improve during this time.
For Indonesian students, Singapore, Sydney, Toronto, London, and New York are the popular destinations for EF's homestay programs.
You can learn more about EF here.
3. IALF
IALF is Indonesia's leading institution for English and Indonesian language training. With 3 campuses in Jakarta, Gading Serpong, and Bali, as well as offering online lessons, you will undoubtedly be able to find a program that suits your needs.
IALF offers a wide range of services, including:
English for kids
English for teens
English for adults
IELTS preparation
Academic English
Corporate training
Teacher training
Bahasa Indonesia course
At IALF, quality is of the utmost importance. You can rest assured that you will have the best learning experience possible, thanks to qualified and experienced teachers, high-quality materials, cutting-edge facilities, and exceptional customer service.
With more than 30 years of experience, thousands of satisfied alumnus and hundreds of projects and workshops held, IALF is definitely one of the best English course providers in Indonesia,
You can learn more about IALF here.
4. Wall Street English
Founded in Italy in 1972, Wall Street English has quickly expanded and become one of the most widely recognized English courses in the world. Currently present in 29 countries with more than 3 million students and alumni, you'll be hard pressed to find a more interactive community of English learners.
Wall Street English offers several programs, namely:
Wall Street English Core: utilises blended learning methodology and allows self-directed learning. It aims to enhance all 4 language competencies: listening, reading, writing and speaking. Can be taken online and offline.
Professional skills: designed to get you ready to tackle the professional world. You'll learn business writing, personal branding, and how to conduct presentations and meetings.
IELTS preparation: consists of 12 sessions. Get unlimited IELTS mock test, access to online learning platform, and IELTS social club.
VIP program: take charge of your learning. Get personalized attention with 1-on-1 sessions, set your own topic and schedule, and get access to VIP only longue and exclusive events.
Wall Street English prides itself on offering courses that are flexible and tailored to your needs and schedule. With 50 years of experience, Wall Street English has always and is continuing to employ forward-thinking, future-oriented learning methodologies and adopting cutting-edge technology to create an immersive learning experience.
You can learn more about Wall Street English here.
5. English Academy by Ruangguru
While it may be a newcomer to the industry, English Academy has already established itself as a leading provider of English language learning service.
This purely online English course is managed under Ruangguru, one of Indonesia's premiere edutech companies.
English Academy by Ruangguru is best known for offering English lessons to children and teenagers as a supplement to their school's English classes.
However, English Academy also provides adult classes and TOEFL iBT preparation. Apart from that, English Academy also provides business English classes in group, team, semi-private, and private settings.
Private lessons for classes other than the business English program are not available at English Academy. But don't worry; English Academy sessions are designed to stimulate interaction so that students may absorb the topic quickly.
English Academy also has some native English speakers, which allows students to practice their English with natives.
You can learn more about English Academy by Ruangguru here.
6. LB LIA
Founded in 1959, LB LIA is one of the oldest language schools in Indonesia, Originally only teaching 19 students who needed to learn English to study abroad, now LB LIA has over 60.000 students across its centers each semester.
LB LIA has a wide range of services, including:
English for kids
English for teens
English for adults
Conversation classes
IELTS preparation
TOEFL preparation
With 63 years of experience, millions of alumnus and thousands of corporate clients, you can't go wrong with LB LIA.
LB LIA aims to enhance students' confidence, improve students' study motivation through relevant learning materials, and provide a fun but meaningful classroom.
To achieve these goals, LB LIA employs the flipped learning methodology, in which students are asked to learn the study material before class so that they have plenty of opportunities to practice the skills they've learned in class, which can take the form of discussion, roleplay, simulations, and so on.
You can learn more about LB LIA here.
7. English Today
English Today provides English courses geared towards adult learners and corporate training. Started in Jakarta, Now English Today has expanded to Bandung, Surabaya, Bali, and Medan as well as offering online courses for students from all over Indonesia.
English Today has a large network of English instructors throughout Jakarta and Indonesia. So, customers have greater flexibility to choose from a wide range of instructors with different specialisations to suit their needs.
English Today prides itself on the quality of its teachers. It receives a lot of teacher applications, but rest assured that only the best are hired. All applicants are extensively vetted, including complete background and reference checks, as well as undergoing observed teaching demonstrations. Customer satisfaction and service quality are a critical part of English Today.
English Today clients include Mandiri, Garuda Indonesia, and Lotte Mart, amongst others.
You can learn more about English Today here.
8. The British Institute
The British Institute, better known as TBI, was founded in 1984 and has continued to provide quality English courses in Indonesia ever since. TBI conducts internal training regularly to keep all of its teachers up to date with latest teaching developments.
The British Institute offers several courses, such as:
Young learner English
Academic English
Global English
Professional English
Corporate training
The British Institute employs a task-based and student-centred approach. Task-based is an approach in which grammar and other language items are presented in the learning process and provide relevant feedback on their in-class performance.
In a student-centred classroom, the teacher takes on the role of facilitator, facilitating and motivating students as they take charge of their own learning.
You can learn more about The British Institute here.
9. Cakap
Like English Academy mentioned above, Cakap is also a purely online-based English course. In fact, Cakap not only offers English courses, but Cakap also offers Japanese, Korean, and Mandarin courses.
There are 4 online learning options available:
Cakap private: learn one-on-one with a tutor via video call
Cakap semi-private: learn in a small group
Cakap club: practice English by discussing different topics in a group
Cakap chat: practice English skills via chat with a tutor
There are several different English courses you can choose from:
Test preparation course: to prepare for English proficiency test such as IELTS, TOEFL, and TOEIC
General proficiency: regular English course for daily situations
Casual practice: designed for beginners, great to expand skills and build confidence
Business English: improve your knowledge in English in professional setting
You can learn more about Cakap here or download the Cakap app on appstore and playstore.
10. International Language Program (ILP)
This English course was founded in 1979 and has been providing quality English courses throughout Indonesia ever since. ILP started in Jakarta and today has 46 locations around Indonesia.
ILP offers a number of courses, namely:
ILP kids
ILP teens
ILP adults
Business English Progressive Class
Exam preparation (TOEFL, TOEIC, and IELTS)
Conversation class
With centers all around Indonesia and many different programs, you'll undoubtedly be able to find a course that suits your needs!
You can learn more about ILP here.
Summary
In this article, we've discussed the 10 best English courses in Indonesia. It's important to always thoroughly research and examine courses before deciding to enrol. We've actually written this guide to help you weed out the bad courses from the good ones! We hope this article can help you make an informed decision to pick the best English course that's suitable for your needs and goals! :)
Next steps
Do you want to speak English with confidence?
Most people lack confidence when they speak English. They are afraid to make mistakes and are embarrassed to speak in front of others.
This is because they have been taught English the wrong way!
Most English courses waste your time and money on useless exercises that don't bring results. Even worse, they teach you bad habits that are very difficult to unlearn.
As a result, you become confused and lack confidence. This is wrong!
At IELC, we teach English the right way
Our goal is to get you speaking in English with fluency and confidence as fast as possible. We want to give you the skills you need to fulfil your potential!
Our experienced teachers will guide you along every step of the learning process to ensure that you are not wasting your time, money, and energy on useless language exercises & wrong methods.
Our courses
With our modern campus and technology, we are equipped to provide the best possible courses for children, teens, and adults, including:
Online and on campus IELTS courses
Online and on campus TOEFL PBT courses
Online and on campus TOEFL iBT courses
We offer our classes in group classes or private classes.
No matter what your goals are, our team will help you achieve these goals by providing you with Indonesia's best English courses!
Talk to our team today to get your FREE consultation and take your first step towards success.
Sincerely,
Anthony McCormick,
IELC Managing Director