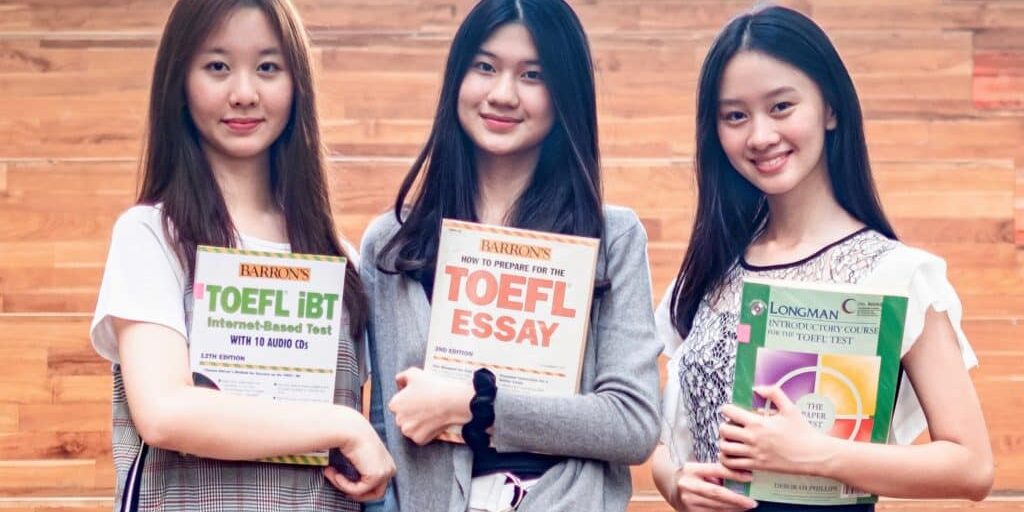 Are you planning to apply for a university abroad, or maybe a job or a scholarship? Do you need a TOEFL certificate for that, but you have no idea what TOEFL is like? Do you need a TOEFL certificate for that, but you have no idea what TOEFL is like?
TOEFL stands for Test of English as a Foreign Language. It is a standardized academic English test and is usually used as a evidence of English ability. It is designed and administered by Educational Testing Service (ETS), an assessment organization based in New Jersey, US.
Initially, TOEFL was only taken by students applying to universities in the US and other English-speaking universities outside the US. However, recently, TOEFL has also been used to apply for jobs or scholarships, even in non-English-speaking countries. Hence, this test is getting more popular, and the demand for this test has risen significantly.
What do we do in TOEFL?
There are two main formats for TOEFL.
The more widely accepted and more popular between the two is TOEFL iBT (Internet-based Test).
The other one, which is older and only available and accepted in certain countries is TOEFL PBT (Paper-based Test).
We will write a separate article explaining the differences between TOEFL iBT and TOEFL PBT in greater detail.
Basically, TOEFL tests include listening, reading, writing, and speaking skills. All four skills are tested in TOEFL iBT, but speaking is replaced with structure in TOEFL PBT.
There is also a separate version of TOEFL PBT called TOEFL ITP, which stands for Institutional Testing Program. This test does not include writing. TOEFL ITP is administered by an individual institution for internal use only. It is not as widely accepted as TOEFL iBT or TOEFL PBT. However, this test is quite popular in Indonesia.
TOEFL iBT (and TOEFL iBT Home Edition)
The TOEFL iBT lasts for 4,5 hours.
It tests reading comprehension, listening comprehension, speaking, and writing, all in an academic context.
It was first introduced in late 2005, to replace the Computer-based Test (CBT). People who wish to take the test need to make an account on the official website and then search for the closest venue for the test.
All skills (listening, reading, writing, and speaking) focus on language that is used in higher-education settings. During the actual test, test takers are allowed to take notes.
TOEFL iBT also has a Home Edition, which allows test takers to sit the exam at home. Since the start of the Covid-19 pandemic, the demand for TOEFL iBT Home Editionhas skyrocketed as it is the only way people can take the test if they wish not to go to the test venue. A human invigilator watches the test takers through a webcam and via screen-sharing.
TOEFL iBT scores range from 0 to 120, where each skill is worth 30. The score requirement for each university, job position, or scholarship is different. Some may also require particular scores on individual skills.
The certificate is valid for two years since the date it is released.
TOEFL PBT
Unlike TOEFL iBT that lasts for 4.5 hours, TOEFL PBT lasts for 2.5 hours.
The sequence of the tests is listening, structure, reading,and writing. However, in TOEFL ITP, writing is not tested.
Test takers have to go to the venue to take the TOEFL PBT and/or ITP test.
Scores in TOEFL PBT range from 310 to 677and not include the writing score. Writing score is reported separately and ranges from 0 to 6.
Some universities, jobs, or scholarships are willing to convert TOEFL PBT scores to TOEFL iBT scores via a conversion table published by ETS.
Like TOEFL iBT, the TOEFL PBT certificate is valid for two years.
One last thing….
Do you want to achieve your TOEFL target?
If you're confused about which TOEFL course to take…
If you're tired of wasting time on strategies that don't work…
If you don't want to waste money on courses that don't help…
We provide a TOEFL online course that is proven to increase your TOEFL score. We have helped hundreds of TOEFL test takers achieve their target TOEFL score and we will make sure you achieve your target too! Do you want to follow their footsteps?
We can provide you with the right preparation so that you are ready and fluent to complete your TOEFL test. We want you to achieve your TOEFL target so you can move on to the next chapter in your life.
Sincerely,
Anthony McCormick,
IELC Managing Director