Want to maximise your kid's English learning? Check out these 5 great TV shows for educational fun!
Hello parents!
If you're here, you probably have realised the importance of English fluency and you want to take the steps to help your children achieve it.
We certainly applaud you for that! Congratulations on equipping your children with the tools they need to thrive in this ever-increasingly competitive world!
But, studying English does not mean you can't have fun at the same time!
In fact, there are many TV shows out there that can help your children learn English. They can learn while having fun, and you can relax a little bit. Sounds like a win-win right?
The thing about children's TV shows is that the characters speak and enunciate their words very clearly, they use simple words which make it accessible to young learners, they often repeat words and even whole sentences – this helps with memorization!
Most of the time, these TV shows are set to portray social interactions, so your children can learn real life applications of the vocabulary featured in the TV show!
And most importantly…
Upbeat music, bright colours, tons of humour, cute and relatable characters…
Now THAT'S a recipe for fun!
Alright, without further ado, let's start by TV show number 1…. 
1. Sesame Street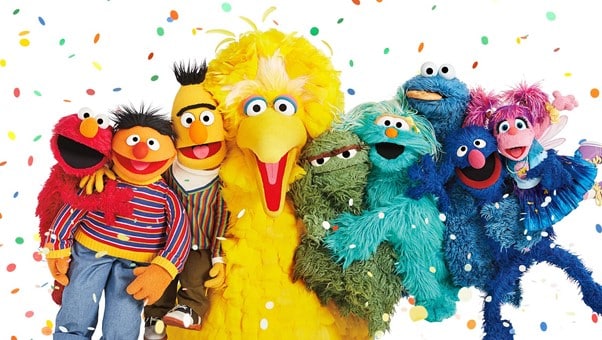 Age: 3-7
Where to access: https://www.sesamestreet.org/
This American educational TV show was launched in 1969 and is still active today! Perhaps its longevity is in part due to its versatility – Sesame Street combines live-action, sketch comedy, puppetry, and animation. Even adults still like this show!
What's so great about Sesame Street is that its website has tons and tons of fun educational content, both in the form of videos and games!
The videos are very short and targeted – for example, there is a video entirely dedicated to the letter "C". Of course, there are also videos featuring other letters in the alphabet. There are also videos on numbers to brush up your children's numeracy skills such as this video, focusing on the number 8.
These very short, segmented videos are perfect for very young learners!
They also have traditional nursery songs, such as twinkle twinkle little star done in a more contemporary way so it's sure to teach your kids rhymes without making them sleepy!
But that's not all! The Sesame Street website also has many games designed for young children, such as this rhyme time game, connect the dots game, and spot the animals as well as many more!
So, definitely give Sesame Street a try! The website truly has all the resources you need to keep your children entertained and occupied! The website is very easy to navigate and the videos and games are made in bite-sized segments to keep it really focused and also to not overwhelm young children! 
2. Peanuts 
Age: 4-11
Where to access: https://www.peanuts.com/
More commonly known as their main characters name – Charlie Brown and Snoopy, this is also an oldy but goody TV show to teach your kids English while having fun!
Like Sesame Street, Peanut's website also has a couple of resources, including videos, coloring sheets, and most importantly, lesson plans!
What's cool about Peanut's lesson plan is that it's already divided based on age, and all of them are downloadable and printable!
Another cool thing about Peanut's lesson plan is that they are divided into themes and all the themes also teach children moral lessons in line with Peanut's core values – take care of yourself, take care of each other, and take care of the earth.
There are some lesson plans featuring NASA where Charlie Brown and his friends learn about space and gravity which we'd have to admit is pretty cool! 
3. Mickey Mouse Funhouse 
Age: 3-8
Where to access: YouTube
Who hasn't heard of Mickey Mouse? Arguably the most well-known cartoon character in the world, this Disney mascot is here to make learning English fun and accessible for all!
Mickey Mouse Funhouse is especially created for very young audiences. This show aims to help young children learn English in… as the name very evidently suggests… a fun way! Not only with Mickey Mouse, but also with the company of other well-known and lovable Disney characters!
So, let's dive right into the magical world of Disney and join Mickey's adventure! 
4. Phineas and Ferb 
Age: 7-12
Where to access: Disney Channel, available as short clips on YouTube
This cartoon series created by Disney is great for older kids aged between 7-12 years old! This show features a pair of brothers – Phineas and Ferb on their summer vacation adventures! However, their older sister Candace keeps interfering with their plans!
But wait, there's more! Phineas and Ferb have a pet platypus named Perry. However, Perry has a secret! He also works as a secret agent with the code name Agent P, working to defeat the evil plans of Dr Doofenshmirtz, a mad scientist!
This is a fun show sure to keep your children entertained! Featuring an original song in nearly every episode, your children will undoubtedly pick up new vocabulary!
Phineas and Ferb teach us that with dedication, the sky's the limit! Truly a valuable lesson for kids everywhere! 
5. Word party 
Age: 2-6
Where to access: Netflix
This Netflix animated series is aimed to expand toddlers' vocabulary. Follow adorable baby animals Bailey the elephant, Franny the cheetah, Kip the wallaby and Lulu the panda learn new words! They frequently turn towards the audience whom they refer to as "big kids" so the audience can repeat the words and explore its usage.
Short and sweet, this is a perfect show for toddlers! Fun and easily digestible.
The cool thing is, this show has a spinoff show: Word Party Presents: Math!
So, depending on what they need to learn, you can let your children watch the original show or the maths show!
Summary
TV shows can be a great addition towards your children' English learning resources. There are so many kids' shows out there catering to different age groups. So, give your children time to watch TV shows! You can relax and they can learn while having fun! Now that's a win-win!
Do you want your child to speak with confidence and fluency?
So many children in Indonesia lack confidence when they speak English. They are worried about making mistakes and are embarrassed to speak in front of others. This is because they have been taught English the wrong way!
At IELC, we teach English the right way so your child can express themselves with confidence and fluency. Whether it's online or on campus, we create positive learning environment where your child will feel warm and welcome, where they can learn and have fun at the same time.
The best English course for kids in Indonesia
With so many courses available, it can be confusing to know which course to choose.
With an average rating of 4.9 out of 5 stars from more than 300 reviewers on Google Review, IELC is the highest ranked best English language course in Indonesia.
We teach English the right way so that your child gain confidence and fluency.
With these skills, they can unlock their potential and fulfill their dreams!
Our experienced teachers will guide your child along every step of the learning process to ensure the best learning outcome.
As Indonesia's #1 English Campus, we offer great courses for kids, teens, and adults:
Whether it's online or on campus, we will help your child gain the skills they need for their future. Contact us to start your child's journey towards confidence and fluency today!
Sincerely,
Anthony McCormick
IELC Managing Director
If you like this article, you might be interested to read: